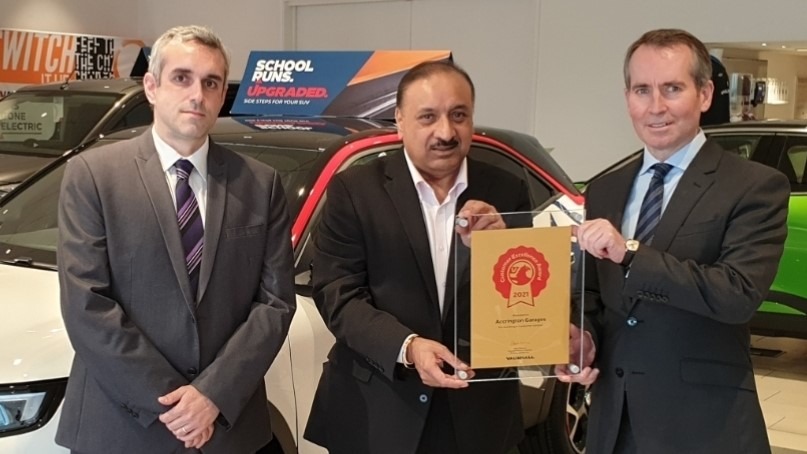 ACCRINGTON GARAGES TAKE TOP SPOT AS UK'S NUMBER ONE VAUXHALL RETAILER
The team at local Vauxhall Retailer, Accrington Garages, are celebrating as they are awarded the prestigious Vauxhall Customer Excellence Award for the seventh consecutive year. The family-run retailer on Burnley Road has also been recognised as the UK's number one performing retailer for exemplary levels of customer service. - A truly extraordinary achievement.
It's a fitting tribute to the well-known and respected Vauxhall retailer who earlier this month celebrated its 28th anniversary. Being in business for so many years is a true sign of the fine quality of their work and loyalty of their customers. Each year, customers are invited to take part in a Vauxhall Customer Satisfaction programme after purchasing a new vehicle or having their vehicle serviced. With thousands of responses from retailers across the country this helps to generate an accurate picture of Vauxhall customer experience.
Accrington Garages is a family run business where three generations work together. In 1993, 36 year-old businessman, Wal Singh purchased the retailer and quickly set out his vision of a customer-focussed company. Today, the business is managed and run by Wal's two sons and two grandsons. All three generations that are behind the family run retailer are rightly proud of the recognition but also appreciate that it is their customers who have made this achievement possible. "I want to thank all our customers for their continued loyalty over the past year. In today's challenging environment the customer experience we provide is more important than ever before," said Wal.
With a family member in every area of the business, there has been a total focus on delivering exceptional customer care in all departments, from sales to parts and servicing. General Sales Manager, Moni Singh added "Whether a customer wishes to purchase a new or used vehicle or would like to have their current one maintained or repaired, we have always been determined to exceed their expectations. And of course, it helps when you have a great team behind you, a terrific group of people who share the same ethos as we do."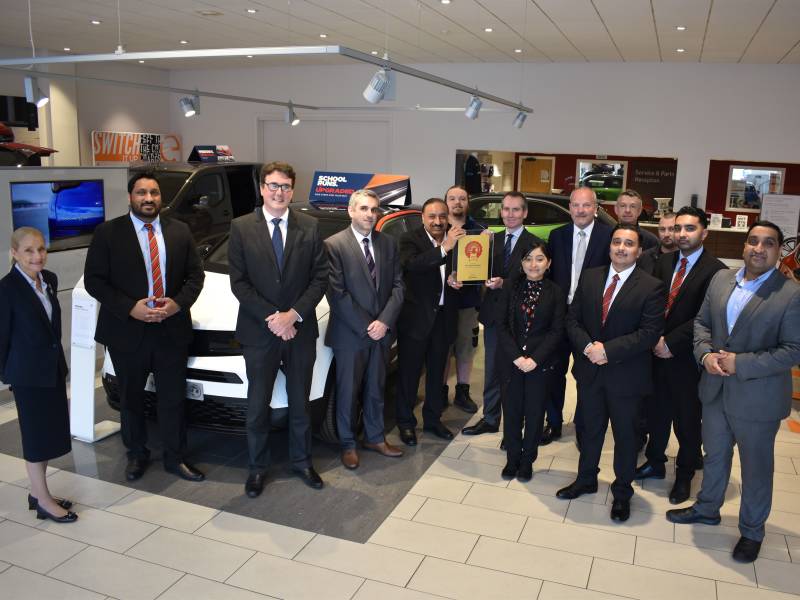 To celebrate the special accolade, Wal and his team were presented with their customer Excelence Award at their showroom in Accrington by Vauxhall Commercial Vehicles & Quality Director, Richard Hughes. "Customer experience has always been a core Brand pillar for Vauxhall" said Richard. "And I am delighted to say Accrington Garages have created a culture that is above the industry norm. Wal and his team should be extremely proud of their achievements. To be number 1 out of 176 Vauxhall Retailers and successfully retain the Customer Excellence Award for seven consecutive years is truly remarkable."
"To be number 1 out of 176 Vauxhal retailers and successfully retain the Customer Excellence Award for seven consecutive years is truly remarkable."
The specially made gold award has been placed on display in the showroom along with the retailer's six previous awards, with all staff receiving commemorative badges. Additionally, the retailer's website and marketing communications will display a special logo marking this achievement.
So if you want to join their happy band of customers and experience customer care the way it should be then visit Accrington Garages. A golden welcome awaits you.
Latest News
09-09-2021
The Prestigious AM Awards 'came home' to the ICC, Birmingham on…
Read more >
01-09-2021
Throughout September, we are offering a 24-hour test drive on our all-electric…
Read more >
17-07-2021
Vauxhall has today revealed the all-new, eighth generation of the Astra. The…
Read more >